Pannonia Hungarica Antiqua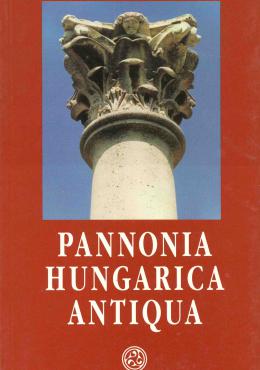 Pannonia Hungarica Antiqua
Itinerarium Hungaricum Series
Budapest, Archaeolingua, 1995
Puhakötés | Paper book
122 oldal, színes és fekete-fehér illusztrációkkal | 122 pages with colored and grayscale images
HU ISBN 963 8046 11 2
IT ISBN 963 8046 14 7
EN
There are several books and publications introducing readers to the monuments of Hungary. The ITINERARIUM HUNGARICUM undertakes the continuation of this noble tradition, by giving guidelines to those who wish to know more about the relics of the past.The first volume of the planned series, PANNONIA HUNGARICA ANTIQUA, was born at the initiative of ICOMOS, the National Commission of the International Council of Monuments and Historical Complexes, and the Special Committee of Archaeological Monuments and Sites. The volume is a guide to Roman relics, exhibitions and lapidaries to be found in Hungary. The itinerary is a brief summary of the topography and history of Roman Pannonia. First, it introduces the monuments along the Amber Road, stretching at the foot of the Alps, then the relics along the frontier running parallel to the Danube, called the limes, and finally presents the sites located in the inner territories of Transdanubia.The description of each site and monument accessible to visitors is accompanied by important pieces information, on the current phase of excavations and monument reconstruction work.
IT
Numerose pubblicazioni e libri sono di aiuto a colui che voglia far cognoscenza dei monumenti artistici dell'Ungheria. Questa nosta impresa, la pubblicazione cioè dell'Itinerarium Hungaricum è nata per onorare questa nobile eredità e desidera realizzare tale scopo offrendo a coloro che dimonstrano un interesse più approfondito una falsariga, una specie di programma di "studio" che ne facilita la conoscenza. Su iniziative della Subcommissione Archeologica della Commissione Nazionale Ungherese dell'ICOMOS, del Consiglio Internazionale dei Monumenti Artistici e Siti, è nato il primo volume di una seria initolato: Pannonia Hungarica Antiqua che vuole essere la guia turistica che Vi conduce nel passato classico ungherese, serve da guida dei monumenti, degli edifici e delle esposizioni di epoca romana ritrovati in Ungheria.
HU
Magyarország műemlékeinek megismerését számos könyv és kiadvány segíti. Az Itinerarium Hungaricum vállalkozása is e nemes hagyomány megbecsülését kívánja szolgálni azzal, hogy vezérfonalat nyújt a múlt emlékeit az átlagosnál mélyebben megismerni vágyó érdeklődőknek. Az ICOMOS, a Műemlékek és Történeti Együttesek Nemzetközi Tanácsának Nemzeti Bizottsága, illetve az ennek keretében működő Régészeti Műemlékhelyek Szakbizottsága kezdeményezésére született meg a tervezett sorozat első: kötete a Pannonia Hungarica Antiqua, a hazai római kori épületemlékek, múzeumi kiállítások és kőtárak kalauza. Az útikönyv Pannonia Hungarica topográfiájának és históriájának rövid összefoglalása. Elsőként az Itáliából érkező és az Alpokalján végighúzódó Borostyánkő út menti műemlékekhez kalauzol, majd a vándorlás a Dunát kísérő határőrvidéken, azaz a limes-úton folytatódik, hogy végezetül a Dunántúl belső területein elhelyezkedő lelőhelyeket ismertesse. Minden meglátogatható hely és műemlék leírása kiegészül, a feltárásra és műemléki helyreállításra vonatkozó legfontosabb tudnivalókkal, melyek tüzetesebb megismerését a szakirodalmi tájékoztató szolgálja. A könyv gerincet képező leírásokat helyismereti és történelmi vázlat meg, és a kötet végén szakkifejezések gyűjteménye egészíti ki. A gazdag illusztrációs anyagot alaprajzok, rekonstrukciós rajzok, valamint a színes fényképek alkotják.