Kollaps – Neuordnung – Kontinuität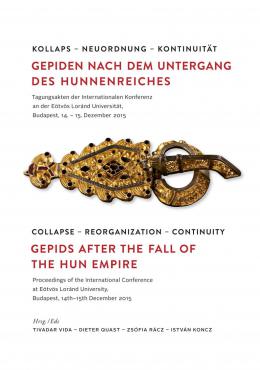 Kollaps – Neuordnung – Kontinuität
Gepiden nach dem Untergang des Hunnenreiches. Tagungsakten der Internationalen Konferenz an der Eötvös Loránd Universität, Budapest, 14. – 15. Dezember 2015
Budapest, Archaeolingua, 2019
Táblakötés | Hardcover
809 oldal | 809 pages
ISBN 978 615 5766 28 2
Table of Contents // Inhalt // Tartalomjegyzék
Über dieses Buch
Dies ist der erste Konferenzband, der sich mit der Geschichte, Archäologie, Namenskunde, Münzprägung, dem Handwerk und den Siedlungen des Königreichs der Gepiden im Theissgebiet, in Sirmien und Siebenbürgen befasst. Die Aufarbeitung der Hinterlassenschaften der Gepidenzeit wird erleichtert durch die neuen archäologischen Quellen. Einzelne Seiten des kulturellen Beziehungssystems der Gepiden beleuchten die Kontakte zur europäischen und byzantinischen Kultur, ihr Verhältnis zu den Langobarden und die Darstellung ihrer Glaubenswelt und Religion.
 
Description
This is the first conference volume focused on the history, archaeology, onomatology, coinage, craftsmanship, and settlements of the Gepidic Kingdom in the Tisza Region, Sirmium, and Transylvania. The heritage of the Gepidic period is presented through the most recent archaeological discoveries. Various aspects of the cultural contacts of the Gepids, as discussed in the book, shed light on their connections to European and Byzantine cultures, their relationship with the Langobards, as well as their beliefs and religion.
Leírás
Ez az első konferencia kötet, ami a Gepida Királyság történét, régészetét, onomasztikáját, éremverését, mesterségeit és településeit helyezi középpontba a tiszai táj, Sirmium és Erdély vonatkozásában. A gepida korszak öröksége a legújabb leleteken keresztül kerül bemutatásra. A könyv bemutatja, miként világítja meg a gepidák kulturális kapcsolatainak számos vonatkozása, kapcsolatukat más európai és bizánci kultúrákkal, viszonyukat a langobardokkal, valamint hitüket és vallásukat.