Archaeology and Public Benefit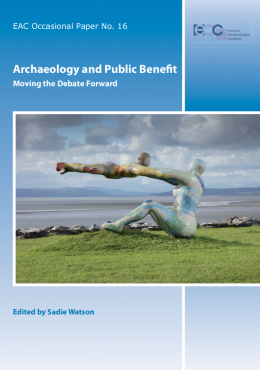 Archaeology and Public Benefit
Archaeology and Public Benefit – Moving the Debate Forward
European Archaeological Council Occasional Paper No. 16
Budapest, Archaeolingua, 2021
Puhakötés| Paper book
226 oldal, színes és fekete-fehér illusztrációkkal | 226 pages with colored and grayscale images
ISBN 978-615-5766-44-2
The digital version of the book is available in pdf on the EAC website.
Table of contents // Tartalomjegyzék
Description
The papers presented at the 2020 EAC Symposium reflect the challenges and opportunities development-led archaeology presents in terms of public benefit. As outlined in the Valletta Convention, the public must be the key beneficiaries of archaeological work and the theoretical concept of public benefit has become well recognised across archaeology but there is still some way to go to fully understand and maximise its potential. The 21st EAC Symposium asked attendees to reflect upon the challenge of positively shaping the future and embedding the concept of public benefit into our practice; from project inception through design and implementation to outcomes and outputs. This volume explores a wide range of topics, from the responsibilities of a state body to ensure public benefit from sites and monuments to the various complex issues surrounding private development, public regulatory frameworks and the role of archaeologists in embedding and providing meaningful public benefit.