Deserting Villages - Emerging Market Towns. Settlement dynamics and land management in the Great Hungarian Plain 1300-1700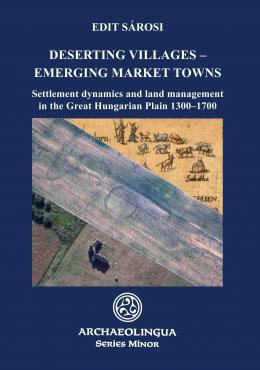 Deserting Villages - Emerging Market Towns. Settlement dynamics and land management in the Great Hungarian Plain 1300-1700
Series Minor No. 39.
Budapest, Archaeolingua, 2016
Nyelv: angol
Puhakötés
Terjedelem: 320 oldal, színes és fekete-fehér illusztrációkkal
ISBN 978-963-9911-90-1
A könyv középpontjában az Alföld középső részének változó településszerkezete áll. Bár a kérdéskört különféle történeti, néprajzi és régészeti kiadványok sokoldalúan vizsgálták és elemezték, ez a könyv az első kísérlet a Duna–Tisza köze táj- és településtörténetének átfogó, interdiszciplináris összefoglalására. A szerző fő célja az volt, hogy a korabeli politikai, gazdasági és környezeti háttérbe ágyazottan áttekintést adjon a településrendszerek és termőföld-gazdálkodási gyakorlat fejlődéséről és átalakulásáról. A könyv célja, hogy bemutassa, miként alakult ki a késő középkori falvak és mezővárosok hálózata a tizenharmadik századtól kezdve, és ezt a mintázatot hogyan váltotta fel néhány, elhagyott falusi földekkel körülvett mezővárosi magtelepülés. A tanulmány foglalkozik továbbá Kecskemét topográfiai és morfológiai fejlődésével, melynek eredményeképpen ez a mezőváros a tizenötödik századra a Duna–Tisza köze középső részének fő városi központja lett, és a tizenhatodik században jelentős gazdasági növekedést mondhatott magáénak. A könyv alapvető módszertani segédletként kíván szolgálni a település- és gazdaságtörténet, a helytörténet, a régészet és a néprajz kutatói, valamint a tájtörténeti tanulmányok iránt érdeklődők számára. Így elősegítheti a magyar településtörténet iránti nemzetközi érdeklődést, és összehasonlító tanulmányok alapjául szolgálhat városi és vidéki kontextusban egyaránt.
About us
The Archaeolingua Foundation and Publisher is involved in publishing series and standalone publications in the disciplines of archaeology, linguistics, historic sciences and heritage protection for over 25 years.
Publishing
We publish both as standalone editions and as a volume of a professional series.
Contact us
Archaeolingua Foundation
Office and mailing address: 1067 Budapest, Teréz krt. 13. II. em.
Official address: 1014 Budapest, Úri u. 49.
Tel./Fax: +36-1-375-8939
Email: info@archaeolingua.hu